WOW Rawr v2.3.9 assistant (optimization of your character)
Sold: 0
Uploaded:
29.05.2010
Content: text
55 symbols
Description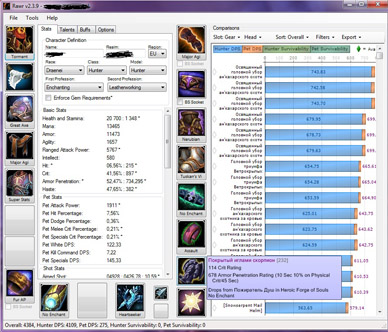 Utility 2010
Language: English + Russian
Many of you have wondered what kind of thing better, apparel Merlin flowing robes or climbing? Both are 245, under article two are not bad, but what to wear? Some people use a system for calculating the AEP - bring all the characteristics of a single universal.
For example: 1 = 100 hit rating AEP, 1 haste = 54 AEP, one spell power = 49, etc.
After the transfer of all the characteristics of a single universal AEP we get the "score" of the thing, getting the opportunity to compare the characteristics of spell damage and spirit, for example.
This mechanic allows you to choose the best thing medium like the same, when the difference between an item is mere pennies. But these pennies and give us a result on one place higher in Recount'e. For those who do not want to bother with the stuff below right now can pass on wowhead.com and take advantage of their new service sorting by relevance, which have already hammered AEP values \u200b\u200bfor each characteristic in all classes and specs.
However, there is a minus in this technique, as with any other universal technique - she, for example, does not account for the cap hit, crit (and even this is!). Do not care if you have 40% crit, then you urgently need to collect haste to flee, but not critical. Or if enough healers tree hastas to reduce GCD at Jota, it would need to urgently this cap to reach. For personal collection of things there is a special program Rawr, which loads your character Armory and gives personalized recommendations.

Additional information
After installation, it is advisable to Russification names of things, not to be confused in the English name, the procedure takes an hour or more, but I recommend that sooner or later, to make it all. To do this, go to Tools -> Options -> General Settings -> Locale: Russian -> Ok. Then Tools -> Update Item Cache from Wowhead and go play WoW until the program is looking for Russian names for things.
Basic concepts.
To download your character from the Armory, go to File -> Load from Armory.
The most interesting thing is right - it is the recommendation to replace the items and their relevance to your DPS / HPS / TPS / survival (for each class of his, Rawr is able to help all), located in the center of your characteristics under all buffs and debuffs on the boss, automatic calculation cycles DPS'a both.
The red frame is outlined the projected DPS / TPS / ... (depending on the class) in the current Giray. Warning: This DPS is only a mathematical abstraction, and may not have any real relationship to the numbers that you issue on the boss. These figures serve only as a guide for you if after a certain time after the change of the things they have increased, so your DPS on the boss will grow to a specific value.
Blue frame circled setting for displaying a list of items with values \u200b\u200bof "Score" (the higher the better) for them. Slot responsible for the type common type of (clothing, enchantment, talent, stone, etc.), Filters for filtering by the level of things, underground (for example, you do not want to see the characteristics of things to Gruul's Lair, they still clearly worse) and al.
Gray frame outlined the general settings. For example, here you can edit the talents and see what has changed in this regard in relation to your things and DPS'u, remove any buffs and see whether it will affect badly on you, etc.
How does Rawr? He holds a conditional battle with the boss in 5 minutes long and shows you your DPS / heal it. After that he spent millions of these fights, I try to replace every single thing, from which it is built table on the right shows how to improve or worsen this or that thing your outcome in the battle.
What can we do for you? Rawr provides customized recommendations for your character. For example, if you hit too low, the 99% that you will be at the top of the list of things that give a hit, since this is the most important feature in the game that affects the DPS. Maybe it will even things 200 level, but believe me, the thing that sometimes 200 levels with 100 hits better than your 258 epic levels, if it does not hit. And Rawr will tell you that.
Rule one thing.
It is important to learn the material written in this section. Rawr make a recommendation on the replacement of one thing.
Here's an example: you do not have 200 units to hit cap, Rawr recommendations will give you all the epics with a hit on the very first place. However, if you follow his recommendations, and replace all the things in the recommended, then you get this eerie overkap hit.
So happens just because that "he" lacked the time you hit Rawr and look for things to hit. But after replacing the one thing you can not be such a problem with the hit? Rawr does not know that you will be changing.
After the planned replacement of one thing, put it on himself and look like Rawr change table (which has to be taken into account to put on a thing) making "pseudo" dressing things have to click on the desired slot, and simply enter a few letters of the name you need clothes, the best options stones offer Rawr itself.
Optimize me (gems).
You want to choose the "perfect" set for you available Insta? Want to "perfect" insert gems into the current armor?
Option counting only gems is the easiest. Go to Tools -> Optimize ... The Calculation to Optimize select the desired option (for most it will be Overall Rating), put a
In order to counter copyright infringement and property rights, we ask you to immediately inform us at support@plati.market the fact of such violations and to provide us with reliable information confirming your copyrights or rights of ownership. Email must contain your contact information (name, phone number, etc.)